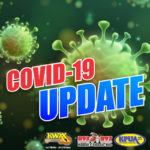 The State Department of Health has reported an increase of 27 new cases of COVID-19.  The state's cumulative total is now 899, with 719 released from isolation.  That means the State DOH is monitoring 180 active cases of the virus.
O'ahu added 23 cases.  The Honolulu Star-Advertiser is reporting that 17 cases are associated with one funeral. Mayor Kirk Caldwell posted on Facebook:  "While spikes like the one we've seen today are alarming, the cases were identified quickly, testing was conducted, and all are in isolation. The best way to prevent the spread of this virus is to avoid being in a situation where you can catch it. Stay home when possible, but if you have to go out please wear a mask."
Kaua'i has added 2 cases since yesterday, and Maui County has added one.  Hawaii Island has also added one new case.  According to the Honolulu Star-Advertiser, the most recent case on the Big Island is in a person who traveled from Georgia.
On June 1, no new cases of COVID-19 were reported, and there were 652 cumulative cases.  In the 28 days in June so far, the state count has grown by 247.
Friday evening, the State DOH reported the death of an elderly man on O'ahu, bringing the state's death toll from COVID-19 to 18. The last reported death before Friday was on May 3.
The state's map showing the location of cases confirmed within the past 28 days on the Big Island.  Each area in yellow had between 1 and 5 cases, according to the legend.  On June 1, 28 days ago, the Big Island had 81 confirmed cases; since then the island has added 6.  Three of the cases are still active and being monitored by the State Department of Health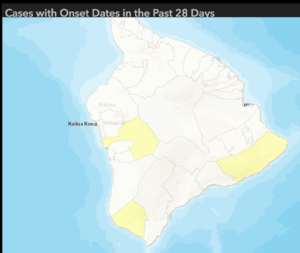 The State's county-by-county detail as of noon on Sunday, June 28, 2020:
Hawaii County
| | |
| --- | --- |
| Total Cases: | 87 |
| Released from Isolation: | 84 |
| Required Hospitalization: | 2 |
| Deaths: | 0 |
Honolulu County
| | |
| --- | --- |
| Total Cases: | 636 |
| Released from Isolation: | 502 |
| Required Hospitalization: | 82 |
| Deaths: | 12 |
Kauai County
| | |
| --- | --- |
| Total Cases: | 37 |
| Released from Isolation: | 20 |
| Required Hospitalization: | 1 |
| Deaths: | 0 |
Maui County
| | |
| --- | --- |
| Total Cases: | 123 |
| Released from Isolation: | 113 |
| Required Hospitalization: | 25 |
| Deaths: | 6 |
Out of state
| | |
| --- | --- |
| Total Cases: | 16 |
| Released from Isolation: | 0 |
| Required Hospitalization: | 1 |
| Deaths: | 0 |
Pending
| | |
| --- | --- |
| Total Cases: | 0 |
| Released from Isolation: | 0 |
| Required Hospitalization: | 0 |
| Deaths: | 0 |