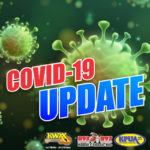 The State added 18 newly-diagnosed cases of COVID-19 to its count in today's noon report from the State Department of Health.  The state's total cumulative case count is now 917, with 736 released from isolation and no longer being monitored by the State Department of Health.
Hawaii County still has 3 active cases, with 87 cumulative, and no new added today.  Maui County added one, Kaua'i County added one, and one is "pending," meaning the island of origin is not yet known.  O'ahu added 15 to its count.  Kaua'i is dealing with 3 clusters.
Mayor Kirk Caldwell (O'ahu) and Mayor Derek Kawakami (Kaua'i) were especially outspoken about the need for people to practice physical distancing, wear masks, and practice hygiene.  Nationwide, health experts have said if people will only wear masks to avoid spreading an infection (known or unknown) from themselves to others, and stay at least 6 feet from others, there is a chance to control the spread of the novel coronavirus.
In May, there were 46 new cases.  In June, there have been 275 new cases.  There have been 18 deaths in our state, 12 on O'ahu, and 6 in Maui County.
Below is the State Department of Health's county-by-county summary:
Hawaii County
| | |
| --- | --- |
| Total Cases: | 87 |
| Released from Isolation: | 84 |
| Required Hospitalization: | 2 |
| Deaths: | 0 |
Honolulu County
| | |
| --- | --- |
| Total Cases: | 652 |
| Released from Isolation: | 518 |
| Required Hospitalization: | 84 |
| Deaths: | 12 |
Kauai County
| | |
| --- | --- |
| Total Cases: | 38 |
| Released from Isolation: | 20 |
| Required Hospitalization: | 1 |
| Deaths: | 0 |
Maui County
| | |
| --- | --- |
| Total Cases: | 123 |
| Released from Isolation: | 114 |
| Required Hospitalization: | 25 |
| Deaths: | 6 |
Out of state
| | |
| --- | --- |
| Total Cases: | 16 |
| Released from Isolation: | 0 |
| Required Hospitalization: | 1 |
| Deaths: | 0 |
Pending
| | |
| --- | --- |
| Total Cases: | 1 |
| Released from Isolation: | 0 |
| Required Hospitalization: | 0 |
| Deaths: | 0 |