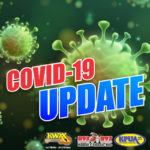 Hawaii is reporting the highest number of daily cases recorded since the COVID-19 pandemic began, with 55 new cases confirmed as of today.  There was also one additional death, a woman on O'ahu whom the State Health Department classified as "elderly."  That brings the state's death toll from COVID-19 to 26.
The state's cumulative case count is 1,490, with 1,125 released from isolation and monitoring.
Today's count includes 50 on O'ahu, 3 on the Big Island, and 2 in Maui County.  Kaua'i had no new cases reported, nor were there any in Hawaii residents out of state.
Hawaii County now has 117 cumulative cases, with 10 active.  Dr. Sarah Park said in a press conference that none of the island's 3 new cases are connected to Kona Community Hospital's cluster, that one is travel related, and they're not sure if the other two new are community spread or related to travel.
This is the highest number of cases reported on a single day, since the State DOH began tracking cases in late February. The previous highest one-day count was on July 11, with 42 cases.
Health Director Dr. Bruce Anderson said, "These cases represent people from all walks of life and varied professions, indicating the apparent challenges of maintaining safe practices is widespread across the state."
DOH continues to track and investigate numerous clusters. State Epidemiologist Dr. Sarah Park echoed Anderson's comments, "Most cases are occurring as a result of people socializing and getting together either with work colleagues, extended family, or friends in multiple type of settings—without wearing face coverings or distancing. I continue to hope all in our community will maintain safe practices, but unfortunately the persistence of new cases would argue against that."
"Regrettably," Dr. Park added, "many of the cases we've seen in recent weeks suggest that one or more of the safe practices were not being followed by individuals or groups of people. Hawaii has done better and can do better; we all need to remember to maintain the safe practices in this COVID world."
State DOH officials repeated what has been said repeatedly:  wear masks, stay at least 6 feet apart from others, wash your hands frequently, and stay home if sick.
It is not clear what impact this will have on the plans to reopen Hawaii's economy both for kama'aina and then removing the 14-day quarantine for travelers coming in from out of state.
At noon, Hawaii State DOH released its county-by-county chart, and will hold a press conference at 1 p.m. to discuss the latest increase.
Hawaii County
| | |
| --- | --- |
| Total Cases: | 117 |
| Released from Isolation: | 107 |
| Required Hospitalization: | 4 |
| Deaths: | 0 |
Honolulu County
| | |
| --- | --- |
| Total Cases: | 1,167 |
| Released from Isolation: | 852 |
| Required Hospitalization: | 122 |
| Deaths: | 19 |
Kauai County
| | |
| --- | --- |
| Total Cases: | 43 |
| Released from Isolation: | 42 |
| Required Hospitalization: | 1 |
| Deaths: | 0 |
Maui County
| | |
| --- | --- |
| Total Cases: | 141 |
| Released from Isolation: | 124 |
| Required Hospitalization: | 26 |
| Deaths: | 6 |
Out of state
| | |
| --- | --- |
| Total Cases: | 22 |
| Released from Isolation: | 0 |
| Required Hospitalization: | 2 |
| Deaths: | 1 |
Pending
| | |
| --- | --- |
| Total Cases: | 0 |
| Released from Isolation: | 0 |
| Required Hospitalization: | 0 |
| Deaths: | 0 |