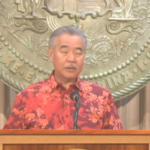 Governor David Ige says travelers may begin coming into the state without the 14-day quarantine beginning October 15, if they can present a negative COVID-19 test taken within 72 hours before their arrival in Hawaii.  Those coming without the test must continue to undergo the 14-day quarantine.
Lt. Gov. Dr. Josh Green, who has COVID-19 and is recuperating, spoke from the bedroom at home in which he is isolating. He said the kind of test required is a Nucleic Acid Amplification Test, or NAAT. Green said that is the kind of test that has become familiar, with the swab deep into the nose. Right now, the State is negotiating contracts with CVS and Kaiser Permanente to provide those tests for people who are traveling with test results provided in a timely manner. Green said the technology and tests change over time, so there may be additional kinds of tests that are able to be used.
Lt. Gov. Green said there is also a plan to increase the number of tests available in the state, especially as the state reopens to tourism.  He said the goal is to be able to do at least 13,000 tests a day.
Green said all incoming travelers are required to have a test in order to bypass the current 14-day quarantine, whether they are residents or not.
Gov. Ige said the 14-day interisland travel quarantine for anybody traveling to a neighbor island will stay in place for now. There is no interisland travel quarantine for travel from a neighbor island to O'ahu.  He said the interisland travel quarantine was implemented because case counts, especially on O'ahu, started climbing.