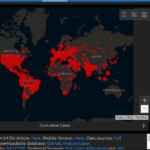 The Johns Hopkins COVID-19 Dashboard for Friday, October 2, at 5:23 a.m.–7 months after the U.S. started being fully aware of the COVID-19 pandemic and the wide spread of the novel coronavirus:
Worldwide cases: 34,374,469    Worldwide deaths: 1,024,426
U.S. cases: 7,288,166   U.S. deaths:  208,025
According to the Dashboard, the reported worldwide case report increased by 326,229 in the last 24 hours.  Deaths worldwide increased by  8,997.
According to the Johns Hopkins Dashboard, the United States has added 46,717 cases in the last 24 hours.  In that time,  the number of reported deaths from  COVID-19 increased by 878.
President Donald Trump and his wife Melania both tested positive for COVID-19 Thursday after one of Trump's top aides, Hope Hicks, reported a positive test.  Hicks had been traveling with the president in recent days.