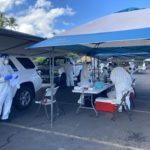 Free drive-through testing for COVID-19 will be offered to the general public tomorrow, Saturday, October 17 in Ocean View at Kahuku Park from 9:00 a.m. – Noon.
Be sure to wear a face covering and maintain social distancing.  Take your own pen to fill out the form and a hard surface to write on (clipboard, magazine, etc.).  If you have an insurance card, bring it, along with a photo ID.
Testing is an important way to identify positive cases as early as possible, and in this way to help stop the spread of the novel coronavirus.  Many people have no symptoms, or only symptoms that are so mild that they can be ignored.  The testing is slightly uncomfortable but that discomfort literally lasts for less than 15 seconds, and it's worth it to try to ensure that anybody with COVID-19 is able to find out.
Hawaii County Mayor Harry Kim is using Federal CARES funds so Hawaii Island residents do not have to pay even a co-pay.
For further information, please call Civil Defense at 935-0031.
Photo is drive-through testing by Ali'i Health at Keauhou Shopping Center.