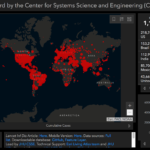 The Johns Hopkins COVID-19 Dashboard for Saturday, October 17, at 5:24 a.m.:
Worldwide cases: 39,444,960    Worldwide deaths:  1,106,221
U.S. cases: 8,062,236   U.S. deaths:  218,766
According to the Dashboard, the reported worldwide case report increased by 412,618 in the last 24 hours.  Deaths worldwide increased by 6,271.
According to the Johns Hopkins Dashboard, the United States has added 73,343 cases in the last 24 hours.  In that time,  the number of reported deaths from  COVID-19 increased by 862.
The daily case count increase in the United States is the highest since late July or early August.  More than half the states have seen a surge in cases in the last week.  Ten states, most in the middle of the country, yesterday reported the highest daily case count of new COVID-19 cases since the start of the pandemic.   The big concern, as always, is hospital capacity.  Health experts have expressed concern and urge people to follow the known practices–wear masks, wash their hands frequently, and avoid large gatherings unless there is distancing.
For the most recent state update, click here.