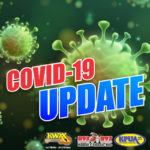 The State Department of Health confirmed 102  new cases in the state today. The state's total count is now  14,335, with around 2,897 active cases.
The state is counting 206 deaths. That  includes 28 of Hawaii County's 40 deaths. The DOH says it has to confirm that each death was in reality a death because of COVID-19 before including it in the state count. Hawaii County is now showing the second highest number of deaths from COVID-19, after O'ahu.
Today's new cases include 52 on O'ahu and 13 on Maui.  Yesterday, it was reported that Lanai had its first 4 cases.  There are 3 new cases in Hawaii residents out of state (which could include college students, for example), and Kaua'i has zero new cases.
Hawaii County added 29 new cases of COVID-19. The island's total count is 1,120 with 263 active cases.
Civil Defense says there are 13 people in the hospital.  Kona Community Hospital has 6 people with COVID-19 in the hospital, with 3 in the Intensive Care Unit and 1 of those on a ventilator, and 3 in the acute care Surgical Unit.   Hilo Medical Center has 5 patients in the separate COVID unit.  That accounts for 11 of the 13 people in the hospital on the island.  Queen's North Hawaii Community Hospital's response to an inquiry was "HIPPA Federal Law prevents us from providing those numbers."  Queen's North Hawaii Community Hospital is the only hospital on the island which has said that they will only report when they have zero patients.
The State DOH noon report:
Hawaii County
| | |
| --- | --- |
| Total Cases: | 1,120 |
| Released from Isolation: | 817 |
| Required Hospitalization: | 60 |
| Deaths: | 28 |
Honolulu County
| | |
| --- | --- |
| Total Cases: | 12,669 |
| Released from Isolation: | 9,980 |
| Required Hospitalization: | 923 |
| Deaths: | 159 |
Kauai County
| | |
| --- | --- |
| Total Cases: | 60 |
| Released from Isolation: | 58 |
| Required Hospitalization: | 1 |
| Deaths: | 0 |
Maui County
| | |
| --- | --- |
| Total Cases: | 435 |
| Released from Isolation: | 377 |
| Required Hospitalization: | 59 |
| Deaths: | 18 |
Out of state
| | |
| --- | --- |
| Total Cases: | 51 |
| Released from Isolation: | 0 |
| Required Hospitalization: | 2 |
| Deaths: | 1 |
Pending
| | |
| --- | --- |
| Total Cases: | 0 |
| Released from Isolation: | 0 |
| Required Hospitalization: | 0 |
| Deaths: | 0 |