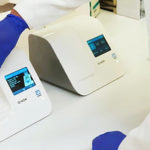 Mayor Harry Kim has changed the post-travel testing for arrivals from the mainland.  Instead of requiring all passengers to be tested, he now says around 25% of the passengers will be required to have a post-arrival test, administered by the County.
Mayor Kim explained that the financial and logistical costs of testing, and the lack of adequate space made testing all passengers in the State pre-test program unsustainable.
The State still requires a pre-arrival NAAT COVID-19 test given within 72 hours of departing for Hawaii if a traveler wishes to avoid the mandatory 14-day quarantine.  Anybody with a negative test may skip the state's  14-day quarantine.  Hawaii County has been the only County requiring a post-arrival test.
According to the Mayor's latest proclamation regarding testing, the County has conducted more than 12,000 arrival tests for transpacific travelers at the County's airports since Oct. 15.   The Mayor says the results of the arrival tests confirm that the single pre-travel test system required by the state is not 100% effective at identifying all travelers who are positive for COVID-19.  The Mayor has said 97 people out of the 12,000 tested positive at one of the Big Island's airports with the County-administered rapid test, but upon further PCR testing, only 17 were actually positive.  That is a positive percentage of just .0014%.
Under the new mandate, the County will randomly select up to 25% of incoming travelers who then will be required to take a COVID-19 test at the airport.  Those travelers who had a pre-arrival negative test will not be required to quarantine while waiting for the results of the test here in the County, but those without a pre-arrival negative test–whether they did not take one or they do not have the results–must quarantine until they get the pre-arrival negative test or 14 days if they did not pre-test.
Kim told the Hawaii Tribune-Herald that the new test program will go into effect at the Kona Airport only, for now, and at the Hilo Airport, all travelers will be tested.  (The proclamation does not say that.) He also said he does not want to test just one member out of a family.  That is also not stated in the proclamation.
Local physician Dr. Peter Locatelli, M.D., has expressed concern about the new plan.  In an email he sent to Hawaii County Corporation Counsel Joseph Kamelamela, shared with New West Broadcasting,  he said "I am concerned that his latest proposal will create great legal risks for the County. There was never good scientific justification for the program, but by proposing a "non random non voluntary" selection process. the data becomes worthless, as selection bias is deliberately being introduced. Limiting testing to ? non randomly selected single travelers may very well be discriminatory, especially since refusal to participate would lead to mandatory quarantine. This penalty would not apply to members of "families" , with no apparent definition of what constitutes a family."
In a press release, Mayor Kim said  "The importance of this testing is unchanged. The goal is to secure funding and go back to full testing of everyone under the State pre-test program."
Those requesting an exemption from quarantine for essential work may do so at travelexemption.hawaii.gov
The proclamation also says anybody who must be in quarantine may only use a hotel or motel, not a Short Term Vacation Rental for that purpose.
The proclamation is effective through Nov. 30:
2020-11-05-Amendment-3-to-Rule-12-County-of-Hawaii-signed-and-certified
Photo is Abbott Labs quick test machine.