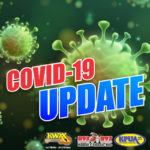 The State Department of Health has announced 53 new cases of COVID-19 today, the lowest increase in cases in a long time.
The State says 222 people have died from COVID.  Hawaii Island has had 49 deaths, but the State DOH continues to confirm only 31 of those in its count.
O'ahu has 37 new cases.  There are 8 new cases in Hawaii residents who are out of state.  Maui Island has 2 new cases.  There are no new cases on Moloka'i, Kaua'i, or Lana'i.  Lana'i had an outbreak that led to 106 cases, but the island had a two-week lockdown and the outbreak there seems under control.
The Big Island added 6 new cases of COVID-19, bringing the island's total to 1,485, according to the State Department of Health.  In the past two weeks, there have been 180 new cases, so there are at least that many active cases on the island.
The State DOH noon report:
Hawaii
| | |
| --- | --- |
| Total Cases: | 1,485 |
| Cases in the Past 14 Days: |    180 |
| Required Hospitalization: |     72 |
| Deaths: |     31 |
Kauai
| | |
| --- | --- |
| Total Cases: | 82 |
| Cases in the Past 14 Days: | 16 |
| Required Hospitalization: |   5 |
| Deaths: |   0 |
Lanai
| | |
| --- | --- |
| Total Cases: | 106 |
| Cases in the Past 14 Days: |    6 |
| Required Hospitalization: |    5 |
| Deaths: |    0 |
Maui
| | |
| --- | --- |
| Total Cases: | 452 |
| Cases in the Past 14 Days: |  43 |
| Required Hospitalization: |  58 |
| Deaths: |  17 |
Molokai
| | |
| --- | --- |
| Total Cases: | 17 |
| Cases in the Past 14 Days: |  0 |
| Required Hospitalization: |  1 |
| Deaths: |  0 |
Oahu
| | |
| --- | --- |
| Total Cases: | 14,373 |
| Cases in the Past 14 Days: |   1,129 |
| Required Hospitalization: |   1,069 |
| Deaths: |      173 |
Out of state
| | |
| --- | --- |
| Total Cases: | 150 |
| Cases in the Past 14 Days: |  66 |
| Required Hospitalization: |    2 |
| Deaths: |    1 |