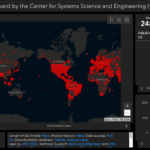 The Johns Hopkins COVID Dashboard for Wednesday, November 18, at 5:26 a.m.:
Worldwide cases: 55,793,403     Worldwide deaths:  1,341,455
U.S. cases: 11,369,504   U.S. deaths:  248,824
According to the Dashboard, the reported worldwide case report increased by 588,454  in the last 24 hours.  Deaths worldwide increased by 11,250.
According to the Johns Hopkins Dashboard, the United States has added 149,184 cases in the last 24 hours.  This is the 13th day in a row the new cases have been greater than 100,000.   In the last day,  the number of reported deaths from  COVID-19 increased by 1,387.
The U.S. continues to have the highest number of cases in the world.