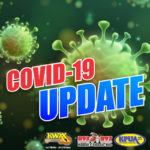 The State has confirmed 71 new cases of COVID-19 today.  Although the cases are announced now at noon, the numbers are based on whatever information the state has 36 hours prior to that, so today's noon numbers are based on the statistics as of 11:59 p.m. on Monday, Nov. 16.
The State's total case count is 16,734.  Today's case increases include 59 on O'ahu, 8 in residents who are out of state, and 2 on Maui.  There were no new cases on Lana'i, Moloka'i, or Kaua'i.
The Big Island added 2 new cases today.  That brings the island's total to 1,487.  There have been 175 new cases in the past 14 days, so there are at least 175 active cases.  The State also confirmed one addition death on the Big Island, a man between 20 and 29.  The island has had 49 known deaths.  The State has only confirmed 32 of them.
Hawaii
| | |
| --- | --- |
| Total Cases: | 1,487 |
| Cases in the Past 14 Days: |    175 |
| Required Hospitalization: |     73 |
| Deaths: |     32 |
Kauai
| | |
| --- | --- |
| Total Cases: | 82 |
| Cases in the Past 14 Days: | 15 |
| Required Hospitalization: |  6 |
| Deaths: |  0 |
Lanai
| | |
| --- | --- |
| Total Cases: | 106 |
| Cases in the Past 14 Days: |    3 |
| Required Hospitalization: |    5 |
| Deaths: |    0 |
Maui
| | |
| --- | --- |
| Total Cases: | 454 |
| Cases in the Past 14 Days: |   45 |
| Required Hospitalization: |   58 |
| Deaths: |   17 |
Molokai
| | |
| --- | --- |
| Total Cases: | 17 |
| Cases in the Past 14 Days: |  0 |
| Required Hospitalization: |  1 |
| Deaths: |  0 |
Oahu
| | |
| --- | --- |
| Total Cases: | 14,431 |
| Cases in the Past 14 Days: |   1,114 |
| Required Hospitalization: |   1,076 |
| Deaths: |      173 |
Out of state
| | |
| --- | --- |
| Total Cases: | 157 |
| Cases in the Past 14 Days: |  68 |
| Required Hospitalization: |   2 |
| Deaths: |   1 |