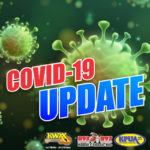 The State Department of Health has confirmed 123 new cases of COVID-19 today.  That brings the state's total to 17,220.   The State DOH has confirmed 233 COVID-19-related deaths.   That includes only 32 of the Big Island's 49 COVID-19 deaths.
O'ahu added 96 new cases, there are 6 new cases on Kaua'i, there are 4 new cases on Maui, and 2 new cases in Hawaii residents who are out of state.  The other Maui County islands of Lana'i and Molok'ai have no new cases.
The Big Island has 14 new cases.  That brings the island's total to 1,541.  In the last 14 days, there have been 153 new cases on the Big Island.
The State's report, which reflects numbers as of Friday night, Nov. 20, at 11:59 p.m.:
Hawaii
| | |
| --- | --- |
| Total Cases: | 1,541 |
| Cases in the Past 14 Days: |   153 |
| Required Hospitalization: |    75 |
| Deaths: |    32 |
Kauai
| | |
| --- | --- |
| Total Cases: | 97 |
| Cases in the Past 14 Days: | 26 |
| Required Hospitalization: |  6 |
| Deaths: |  0 |
Lanai
| | |
| --- | --- |
| Total Cases: | 106 |
| Cases in the Past 14 Days: |    0 |
| Required Hospitalization: |    5 |
| Deaths: |    0 |
Maui
| | |
| --- | --- |
| Total Cases: | 484 |
| Cases in the Past 14 Days: |   62 |
| Required Hospitalization: |   60 |
| Deaths: |   17 |
Molokai
| | |
| --- | --- |
| Total Cases: | 17 |
| Cases in the Past 14 Days: |  0 |
| Required Hospitalization: |  1 |
| Deaths: |  0 |
Oahu
| | |
| --- | --- |
| Total Cases: | 14,794 |
| Cases in the Past 14 Days: |   1,095 |
| Required Hospitalization: |   1,106 |
| Deaths: |     182 |
Out of state
| | |
| --- | --- |
| Total Cases: | 181 |
| Cases in the Past 14 Days: |   0 |
| Required Hospitalization: |   2 |
| Deaths: |   2 |