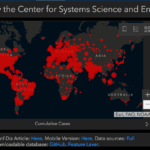 The Johns Hopkins COVID Dashboard for Sunday, November 22, at 5:27 a.m.:
Worldwide cases: 58,295,905    Worldwide deaths:  1,382,917
U.S. cases: 12,102,101   U.S. deaths: 255,953
According to the Dashboard, the reported worldwide case report increased by 562,389  in the last 24 hours.  Deaths worldwide increased by 6,513.
According to the Johns Hopkins Dashboard, the United States has added 173,199 cases in the last 24 hours.   The COVID Tracking Project reports that more than 82,000 people are hospitalized with COVID-19.   In the last day,  the number of reported deaths from  COVID-19 increased by 1,393.
The pandemic is a major concern of world leaders.  On Saturday, the G20 met virtually.  The G20–or Group of 20–is made up of developed and developing nations to discuss international economic cooperation.  The global pandemic was key on the agenda as the leaders discussed its impact on the economy and how to ensure equitable vaccine distribution around the world, including to the poorer countries.