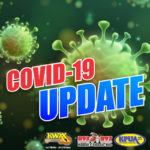 The state has confirmed 114 new cases of COVID-19, bringing the state's total to 17,333.  The state is still reporting 233 deaths from COVID-19.

There are 80 new cases on O'ahu, 11 new on Maui, 10 in Hawaii residents who are out of state, and 3 on Kaua'i.  Neither Moloka'i nor Lana'i have any new cases.
There are 10 new cases on the Big Island.  The island's total number of cases now is 1,551.  The island has lost 49 people to COVID-19, but only 32 are currently in the state's official count.
The State's overall positivity rate in testing is 2%, with O'ahu at 2.5% and the Big Island at 1.6%.
There is more information at the State's COVID-19 information page.
Today's numbers reflect what the State Department of Health had recorded as of Saturday, Nov. 21, at 11:59 p.m.
The State report:
Hawaii
| | |
| --- | --- |
| Total Cases: | 1,551 |
| Cases in the Past 14 Days: |   144 |
| Required Hospitalization: |    75 |
| Deaths: |    32 |
Kauai
| | |
| --- | --- |
| Total Cases: | 100 |
| Cases in the Past 14 Days: |   29 |
| Required Hospitalization: |    6 |
| Deaths: |    0 |
Lanai
| | |
| --- | --- |
| Total Cases: | 106 |
| Cases in the Past 14 Days: |    0 |
| Required Hospitalization: |    5 |
| Deaths: |    0 |
Maui
| | |
| --- | --- |
| Total Cases: | 495 |
| Cases in the Past 14 Days: |   71 |
| Required Hospitalization: |   60 |
| Deaths: |   17 |
Molokai
| | |
| --- | --- |
| Total Cases: | 17 |
| Cases in the Past 14 Days: |  0 |
| Required Hospitalization: |  1 |
| Deaths: |  0 |
Oahu
| | |
| --- | --- |
| Total Cases: | 14,873 |
| Cases in the Past 14 Days: |   1,070 |
| Required Hospitalization: |    1,112 |
| Deaths: |      182 |
Out of state
| | |
| --- | --- |
| Total Cases: | 191 |
| Cases in the Past 14 Days: |   0 |
| Required Hospitalization: |   2 |
| Deaths: |   2 |