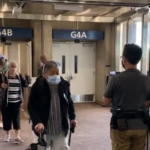 Today is the first day of  the state's revised pre-travel test program.  Effective today, travelers coming into the state must have uploaded their negative COVID-19 test results into the state's Safe Travels Program website before they board the final flight to Hawaii.  If not, travelers will have to quarantine for 14 days.  Even if the traveler's results come in once they arrive in the state, they will still have to quarantine.
The abrupt change–announced last Thursday by Gov. David Ige–was the hot topic at Monday's meeting of the State House Select Committee on COVID-19, which is composed not just of legislators, but of representatives from the hotel and visitor industries, Chambers of Commerce, industry trade groups, business leaders, health care leaders, Dr. Carl Bonham from the University of Hawaii Economic Research Organization, Dr. Mark Mugiishi from HMSA,  Hawaii Pacific Health CEO Ray Vara, and more.    The meeting is chaired by House Speaker Scott Saiki.  The meetings are every other Monday at 10 a.m., and are viewable online or on NaLeo Channel 55.
Numerous people expressed concern about the negative impact of the change on the tourism industry, which has just begun to re-emerge with the pre-travel test program, which went into effect Oct. 15.
Now, barely after a month after the program's inception,  there appeared to have been no advance discussion with anybody involved in the visitor or travel industry about the possible impact of such a change.  Done abruptly with only 5 days' notice, beginning the Tuesday of Thanksgiving, which was expected to give tourism another boost, with people already having reservations, it was not perceived well by those on Monday's call.  Peter Ingram, CEO of Hawaiian Airlines, said he found out about the change only hours before Thursday's announcement.  Mufi Hannemann, President of the 170-member Hawaii Lodging and Tourism Association, said he was unaware of any consultation with his members, and he'd not been asked.  Wendy Laros of the Kona Kohala Chamber of Commerce said she'd received dozens of calls from concerned businesses and potential travelers.
It appears that the decision was made by Gov. David Ige after input from the four County Mayors.
Dr. Mark Mugiishi of HMSA said the state's pre-travel test program appeared to be a success, as out of 272,000 visitors since the program began, only 44 had turned out to test positive for COVID-19–around .00016%.  Mugiishi said "I'm a health guy.  If there was a health risk [using the existing pre-travel test program] I'd say so.   With 44 people testing positive after arrival, that's only 1 person a day.  We now have real data to show it [the program] works."
Tourism representatives on the Big Island said they started getting hundreds of calls from concerned or confused travelers or potential travelers.  Hotels are saying that they started getting cancellations after the Thursday announcement was made, as getting testing on the mainland is getting more challenging, and even some of Hawaii's "Trusted Testing Partners" are warning that they may not be able to process and provide the results before travelers board the plane.
As Carl Bonham of UHERO said, by creating confusion and having people cancel or postpone trips, the state is in jeopardy of losing between $300 million and $500 million in economic boost created by those travelers.  Bonham said the decision sounds like it was based on fear, not science.
Bonham said that more tourists started coming after the Oct. 15 pre-travel testing program went into effect than UHERO expected.  But this new rule means that UHERO is rethinking their projections for the future and moving them downward.
Peter Ho, Chairman of Bank of Hawaii, said it is important to instill confidence in travelers and residents.  He suggested tweaks to the Governor's new plan, rather than rescinding it.  Several people suggested that if people can show they did get a test in time, perhaps the City and County of Honolulu's new test facility at the airport could be made available to them to get a test upon arrival, or for neighbor islands, some similar facility.
Gen. Kenneth Hara of the Hawaii Emergency Management Agency, who is part of the Committee, and House Speaker Scott Saiki both said they would take these concerns back to Gov. Ige.