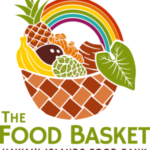 The Hawaii Island Food Basket will do food distribution events at three island locations this week:
 Waimea District Park, Tuesday, December 1, starting at 10 a.m.
 Kea'au High School, Wednesday, December 2, starting at 10 a.m.
  Kamehameha Park in Kohala, Thursday, December 3, starting at 10 a.m.
Kristin Frost Albrecht, Executive Director of the Hawaii Island Food Basket, says there are many more people who need food on the island now, with the COVID-19 pandemic, many people losing their jobs because of it, and the unemployment insurance in some cases running out and no new federal assistance at this time.  She says the Food Basket is ready to help, and encourages anybody who is hungry to come.  She says there is no shame in needing help.
Leave space in your trunk or back seat for the volunteers to put the food.  And please wear a mask.
Below is the entire Hawaii Island Food Basket distribution schedule for December:
Waimea | Waimea District Park | Tuesday, December 1 | 10am
Keaau | Keaau High School | Wednesday, December 2 | 10am
Kohala | Kamehameha Park | Thursday, December 3 | 10am
Naalehu | Naalehu Hongwanji Temple | Tuesday, December 8 | 10am
Hilo | Afook-Chinen Civic Auditorium | Wednesday, December 9 | 10am
Waikoloa | Kamakoa Nui Skate Park | Friday, December 11 | 10am
Kona | Old Kona Airport Pavilion | Thursday, December 17 | 10am
Pahoa | Pahoa Community Center | Friday, December 18 | 10am
Ocean View | Kahuku Park | Monday, December 21 | 10am
Honokaa | Honokaa Sports Complex and Skate Park | Wednesday, December 23
Volcano | Cooper Center | Wednesday, December 30 | 10am
Questions?  Donations?  Volunteers?   hawaiifoodbasket.org