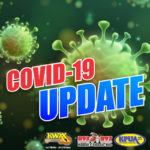 The State Department of Health has confirmed 85 new cases of COVID-19, bringing the state's total to 17,925.  The latest numbers are from Saturday, based on the State DOH's new procedure.
The State is counting 244 deaths from COVID-19.  That includes only 34 of Hawaii County's 49.
O'ahu has 66 new cases today.  Maui has 9.  There are 4 new cases in Hawaii residents out of state.  There is one new on Kaua'i.  Neither Lana'i nor Moloka'i have any new cases.
The Big Island has 4 new cases, bringing the island's total to 1,599.  Of these, 119 have been confirmed in the past 14 days, so there are at least that many considered active on the island.
The State DOH noon Monday report (based on numbers confirmed on Saturday, Nov. 28):
Hawaii
| | |
| --- | --- |
| Total Cases: | 1,599 |
| Cases in the Past 14 Days: |    119 |
| Required Hospitalization: |     78 |
| Deaths: |     34 |
Kauai
| | |
| --- | --- |
| Total Cases: | 113 |
| Cases in the Past 14 Days: |  31 |
| Required Hospitalization: |   6 |
| Deaths: |   1 |
Lanai
| | |
| --- | --- |
| Total Cases: | 106 |
| Cases in the Past 14 Days: |    0 |
| Required Hospitalization: |    5 |
| Deaths: |    0 |
Maui
| | |
| --- | --- |
| Total Cases: | 542 |
| Cases in the Past 14 Days: |   92 |
| Required Hospitalization: |   61 |
| Deaths: |   17 |
Molokai
| | |
| --- | --- |
| Total Cases: | 18 |
| Cases in the Past 14 Days: |   1 |
| Required Hospitalization: |   1 |
| Deaths: |   0 |
Oahu
| | |
| --- | --- |
| Total Cases: | 15,330 |
| Cases in the Past 14 Days: |  1,000 |
| Required Hospitalization: |   1,137 |
| Deaths: |     190 |
Out of state
| | |
| --- | --- |
| Total Cases: | 217 |
| Cases in the Past 14 Days: |    0 |
| Required Hospitalization: |    2 |
| Deaths: |    2 |