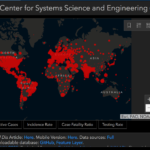 The Johns Hopkins COVID Dashboard for Thursday, December 3 at 5:27 a.m.:
Worldwide cases: 64,694,713   Worldwide deaths: 1,496,247
U.S. cases: 13,941,101   U.S. deaths: 273,746
According to the Dashboard, the reported worldwide case report increased by 640,519  in the last 24 hours.  Deaths worldwide increased by 12,083
According to the Johns Hopkins Dashboard, the United States has added 199,414 cases in the last 24 hours.
In the last day,  the number of reported deaths in the U.S. from  COVID-19 increased by 2,865.
The COVID Tracking Project reports that 100,226 people were hospitalized with COVID-19 as of yesterday.  This is the highest hospitalization number since the pandemic began–more than double just a month ago, and hospitals in several states on the mainland are reporting they are at capacity.  At this time, on the Big Island, our hospitalization rate is low.  Hawaii County Civil Defense reported on Wednesday afternoon that one patient is in the hospital with COVID-19.
The FDA is set to review two vaccines for COVID-19:  on Dec. 10, the Pfizer/BioNTech vaccine (already approved for use in the U.K.) and on Dec. 18, the Moderna vaccine.