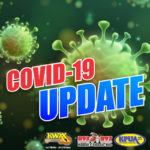 The Johns Hopkins COVID Dashboard for Thursday December 24, at 5:22 a.m.:
Worldwide cases: 78,882,272       Worldwide deaths:   1,7233,975
U.S. cases: 18,479,054     U.S. deaths: 326,495
According to the Dashboard, the reported worldwide case report increased by 685,080 in the last 24 hours.  Deaths worldwide increased by 13,026.
According to the Johns Hopkins Dashboard, the United States has added 223,080 cases in the last 24 hours.
In the last day, the number of people who have died in the U.S. from  COVID-19 increased by 3,221.  This is greater than the 2,977 people who died on September 11, 2001, when foreign operatives hijacked and crashed planes into the World Trade Center and the Pentagon, and one other plane crashed into a field in Pennsylvania.
Hospitalizations of people with severe cases of COVID-19 around the country have been growing at a steady rate.  The COVID Tracking Project reports that 119,463 people were hospitalized nationwide with COVID-19 as of yesterday.
In good news, more than 1 million Americans have received the first dose of either the Pfizer/BioNTech or the Moderna vaccines.  In Hawaii County, health care workers at our three island hospitals are getting vaccinated.  In Hilo on Tuesday, more than 200 first responders also got vaccinated, and today, first responders will get vaccinated in Kona.
Millions of Americans are suffering from job loss, financial insecurity, food insecurity, and fear of the future, even with the bright spot of the vaccine.  This week, both houses of Congress passed a massive, $2.3 Trillion spending bill that will keep the government open past Dec. 28, as Federal Government spending lapses at midnight Monday night.  The bill also contains $900 Billion in funding for COVID-19 relief, which would bring at least $1.7 Million to Hawaii, according to Hawaii's senior Senator, Brian Schatz.  The bill includes a $600 payment for anybody earning less than $75,000 a year and adds additional unemployment relief, among other things.
But on Tuesday, President Trump called the bill "a disgrace" and said he would not sign it and called for the COVID relief payments to increase to $2,000.  Early this morning Hawaii Time, House Democrats called for amending the bill to include the $2,000 checks, but House Republicans blocked it.    Speaker Nancy Pelosi said she's going to try again on Monday to get the $2,000 checks approved, so President Trump will sign the bill.
The bill also approves new Paycheck Protection Program funding, extension of an eviction moratorium, more federal funding for Unemployment Insurance, and more.  According to CNBC, if Pres. Trump doesn't sign the bill, around 12 million people will lose unemployment benefits on Saturday, the day after Christmas.
If the bill is not signed by Monday, Congress must pass an interim funding bill to keep the government open, or the Federal government will shut down at midnight, Monday night.