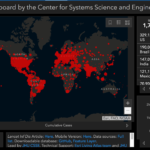 On this Christmas Day, Friday, Dec. 25, 2020, at 5:22 a.m.,  the Johns Hopkins COVID Dashboard :
Worldwide cases:   79,523,711     Worldwide deaths:   1,744,954
U.S. cases: 18,661,461     U.S. deaths: 329,133
According to the Dashboard, the reported worldwide case report increased by 641,439 in the last 24 hours.  Deaths worldwide increased by 10,979.
According to the Johns Hopkins Dashboard, the United States has added 182,407 cases in the last 24 hours.  In one week, since last Friday, Dec. 18, the U.S. has added 1.4 million cases.
In the last day, the number of people who have died in the U.S. from  COVID-19 increased by 2,638.
In Hawaii, the total number of people in the state who had contracted COVID-19 as of Tuesday's numbers, reported by the State Department of Health on Thursday, was 20,650, with 1,733 new cases in the past 14 days.  The Big Island has had 1,848 cases, 160 of them in the last 14 days.  State Department of Health says most of the Big Island cases are community spread, although there are some travel-related cases.
The COVID Tracking Project reports that 120,151 spent Christmas Eve in the hospital, suffering from severe cases of COVID-19.  The nationwide hospitalization numbers continue to rise.  On the Big Island in Hawaii, 3 people are currently hospitalized with COVID-19.
In good news, more than 1 million Americans have received the first dose of either the Pfizer/BioNTech or the Moderna vaccines.  In Hawaii County, health care workers and first responders (police, fire) have been getting vaccinated over the last several days.
Vaccination does not mean stop wearing a mask.  Only the first dose has been given, and everybody needs to get a second dose between 3 and 4 weeks later.  In addition, like the influenza shots, it may take a bit of time for the immunity to develop.  And with COVID-19 and the vaccines being new, there is still work to be done to determine how long immunity will last and whether there is a chance for somebody, even vaccinated, can spread the virus.  In the Phase 3 Clinical Trials, immunity for both vaccines was shown to be better than 90%.   It will take until early summer, health experts say, for everybody in the state who wishes to get vaccinated to do so.
Earlier this week, after 7 months of negotiation, when both houses of Congress passed a $2.3 Trillion spending bill that would keep the government open past Monday plus provide  $900 Billion in COVID-19 relief, Treasury Secretary Steve Mnuchin said Americans could start seeing $600  bank deposits early next week.  But on Tuesday, President Donald Trump said he would not sign the bill.
The President is pressing for Congress to up the amount of the payments to individuals to $2,000.    At this point, things are in limbo.   Pres. Trump is at Mar-a-Lago for Christmas, and Congress is out of session.  Some Senators are saying to reopen one part of the bill would mean reopening the entire bill, and since it took 7 months to get to this point, they say that's not a good idea.  The 5,600+ page bill is at Mar-a-Lago in case the President has a change of heart and decides to sign it.
According to CNBC, if Pres. Trump doesn't sign the bill, around 12 million people will lose unemployment benefits tomorrow.
If the bill is not signed by Monday, Congress must pass an interim funding bill to keep the government open, or the Federal government will shut down at midnight, Monday night.