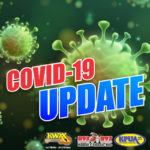 The State Department of Health has confirmed 120 new cases of COVID-19, bringing the state's total to 20,769. These numbers reflect tests as of last Wednesday.
The Big Island count increased by 8. The island has had 1,856 total cases of COVID-19, and 50 people are known to have died from the virus. Statewide, the DOH is confirming 285 deaths from COVID.
Hawaii County Civil Defense said as of yesterday afternoon, 3 people were hospitalized with severe cases of COVID-19.  Kona Community Hospital spokesperson said on Thursday it has 1 COVID-19 patient, and earlier in the week, Hilo Medical Center spokesperson said that facility had 2 COVID-19 patients.
Health providers who work in hospitals and first responders (fire and police) have gotten vaccinated this week with either the vaccine from Pfizer/BioNTech or the one from Moderna.  The State says that local pharmacies will help with vaccinating older people in care or congregate living facilities.   Elena Cabatu of Hilo Medical Center said they are vaccinating staff members for 3 days this week, through Saturday.  She said that next week, the facility will start vaccinating community healthcare providers in East Hawaii.
Despite the positive news about vaccines, mask wearing and distancing is still important. Health officials urge everybody to remember that over the next week of holidays. They say the goal this Christmas should be to ensure that our friends and loved ones are here next Christmas to celebrate.
The State Department of Health report for noon Friday, Dec. 25, with numbers reflecting tests as of Wednesday, Dec. 23:
| | | |
| --- | --- | --- |
| Where | Total | New  |
| State | 20,769 | 120 |
| Hawaii County |   1,856 |     8 |
| Oahu | 17,450 |   95 |
| Maui |      855 |   17 |
| Kaua'i |      139 |     0 |
| Out of state |      341 |     0 |
| Lanai |      106 |     0 |
| Molokai |        22 |     0 |