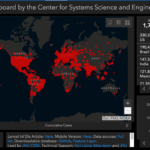 On this day after Christmas, Saturday, Dec. 26, 2020, at 5:22 a.m.,  the Johns Hopkins COVID Dashboard :
Worldwide cases:   79,966,148     Worldwide deaths:   1,752,674
U.S. cases: 18,771,885     U.S. deaths: 330,345
According to the Dashboard, the reported worldwide case report increased by 442,437 in the last 24 hours.  Deaths worldwide increased by 7,720.  Reported cases and deaths are much lower than in previous days, which could be a good sign, OR…it could be because yesterday was Christmas and some reporting may be delayed.
According to the Johns Hopkins Dashboard, the United States has added 110,434 cases in the last 24 hours.
In the last day, the number of people who have died in the U.S. from  COVID-19 increased by 1,212.
In Hawaii, the total number of people in the state who had contracted COVID-19 as of Wednesday's numbers, reported by the State Department of Health on Friday, was 20,769, with 1,773 new cases in the past 14 days.  The Big Island has had 1,856 cases, 165 of them in the last 14 days.  State Department of Health says most of the Big Island cases are community spread, although there are some travel-related cases.
The COVID Tracking Project reports that 118,948 spent Christmas Day in the hospital, suffering from severe cases of COVID-19.  That number is slightly lower than the day before.  On the Big Island in Hawaii, 3 people are currently hospitalized with COVID-19.
In good news, more than 1 million Americans have received the first dose of either the Pfizer/BioNTech or the Moderna vaccines.  In Hawaii County, health care workers and first responders (police, fire) have been getting vaccinated over the last several days.
Americans nationwide are suffering from being jobless and not having enough money to pay rent, buy food, or pay normal bills.  Congress has passed a bill that would keep the government open past Monday night at midnight, plus provide $900 Billion in funds to provide COVID-19 assistance.  The bill is at Mar-a-Lago with President Donald Trump, who has said he will not sign it because it does not provide enough direct assistance to Americans plus has too many extraneous provisions.  If he does not sign it by Monday, the government will shut down Monday night at midnight unless Congress can pass a separate interim spending bill to keep it open.