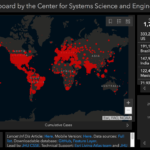 As of 6:00 am on Thursday, January 21, 2021, The Johns Hopkins COVID-19 dashboard reports the following information. 
 Global Cases – 97,008,069      Global Deaths – 2,078,315
U.S. Cases – 24,446,837      U.S. Deaths – 406,384
In the last day, global cases have increased by nearly 700,000 while U.S. deaths increased by over 4,500 cases.
According to The Associated Press, President Joe Biden is expected to sign ten coronavirus related executive orders on January 21.