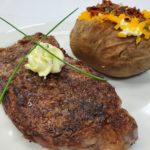 On January 30, 2021, The Hilo Hawaiian Hotel will open its new restaurant, Whisky Steak Wine, The Steakhouse.  The 5,600-square-foot establishment will occupy the hotelʻs previous restaurant, The Queens Court Restaurant, located in the lobby level.
Whiskey Steak Wine will feature first-class steaks, a wide variety of seafood, and an extensive array of fine wines and international whiskeys. According to a press release, daily specials and weekly features will include Surf & Turf on Mondays, a Wagyu Grade Tomahawk Tuesday and Wednesday Live Kona-Cold Whole Lobster.
Whiskey Steak Wine is led by Hilo Hawaiian Hotel Food & Beverage Director Gregory Arianoff, Executive Chef Dean Otake and Chef De Cuisine Jason Soriano.
For more information or reservations, visit www.wswsteakhouse.com or call (808) 969-6470.
Photo courtesy of Becker Communications Inc.