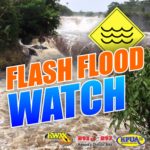 The National Weather Service has extended a flash flood watch for Big Island thru end of day on Monday, March 1, 2021.
Potentially impacted areas include North Kohala, Hāmākua, Hilo, Puna and Ka´ū Districts, as well as the island's interior.
Rain showers are expected to continue and flash flooding could occur due to the already saturated ground and stream conditions.
The public is asked to take the following precautions during this time:
Do not cross fast flowing streams or runoff on foot or in a vehicle.
Roadway conditions and visibility make driving difficult, slow down.
If lightning affects your area, the safest place to be is indoors.