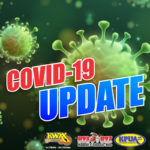 The State Department of Health reports 445 new cases of coronavirus with 12 new COVID-19 related deaths.  The following data includes confirmed and probable cases up until Tuesday, September 21, 2021.  Full data is posted on the State COVID-19 dashboard and on the DOH Disease Outbreak & Control Division website: hawaiicovid19.com/dashboard.
STATEWIDE COVID-19 COUNTS:
Total Cases  76,966
New Cases: 445
Deaths: 738
Daily Case Average: 421
Current Hospitalizations: 285
Positivity Rate: 5%
Fatality Rate: 1%
Cases Reported in the Last Two Weeks: 7117
The DOH reports 81 new cases of coronavirus with 1 new COVID-19 related death on Hawaiʻi Island.
HAWAIʻI ISLAND COVID-19 COUNTS:
Total Cases: 9,699
New Cases: 81
Deaths: 81
Daily Case Average: 64
Current Hospitalizations: 27
Positivity Rate: 5.7%
Fatality Rate: 0.8%
Cases Reported in the Last Two Weeks: 1,090
Kauaʻi
New COVID Cases: 30
Total COVID Case Count: 2104
Maui
New COVID Cases: 59
Total COVID Case Count: 9217
Oʻahu
New COVID Cases: 267
Total COVID Case Count: 53,616