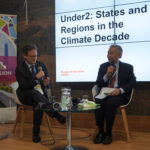 On Monday, November 8, Gov. David Ige participated in several events at the COP25 Climate Change Conference in Glasgow, Scotland that included a panel discussion called Role of States and Regions in the Climate Decadewith Oregon Governor Kate Brown, and a press conference entitled U.S. Governors United on Climate Action and a Net-Zero Future with Oregon Gov. Kate Brown, Washington State Gov. Jay Inslee and Illinois Gov. J. B. Pritzker.
Gov. Ige outlined what Hawaiʻi has done so far, and initiatives he hopes to implement in the future to combat climate change. They include preparing for electric planes for inter-island flights, requiring state employees to rent electric vehicles when on business trips and planting 100 million trees across the state by 2030. The Governor also participated in a U.S. Department of Energy panel discussion with DOE Deputy Secretary David Turk.
On Tuesday, November 9, Governor Ige will participate in a panel discussion called A State-Federal Partnership for a Net-Zero Future Event.  He is scheduled to participate in the COP26 Climate Change Conference until the end of this week.
Photo credit: State of Hawaiʻi Governor's Office