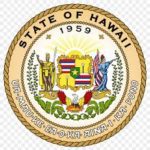 Gov. David Ige signed an emergency declaration for the entire State of Hawai'i as heavy rains from a Kona Low weather system are causing flooding leading to damage to public and private property.
The emergency declaration gives the governor the authority to spend state funds as appropriated to protect the health, safety and welfare of residents and visitors in the State of Hawai'i. The declaration supports state and county efforts to provide quick and efficient relief of suffering, damage, and losses caused by flooding and other effects of the heavy rains.
The disaster emergency relief period continues through Friday, Dec. 10, 2021.