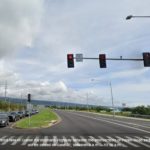 Two road closures will be taking place in Kona this week as traffic investigators conduct further investigations into recent traffic fatalities.
The southbound lanes of Queen Ka'ahumanu Highway between the intersection of Queen Ka'ahumanu Highway and Makala Boulevard to the Palani Road intersection will be closed between 9am and 10:30am on Wednesday, June 22 while the Area II Traffic Enforcement Unit (TEU) conducts further investigation into a June 14 traffic crash that killed a 62-year-old Kona woman.
On Thursday, June 23, a second road closure will take place on Māmalahoa Highway, between the intersection of Māmalahoa Highway and Old Māmalahoa Highway (Route 180) to St. Paul's Road between 9am and 10:30 am.  During this time both directions of the road will be closed as investigators conduct further investigation of a June 15 traffic collision that killed a 19-year-old motorcyclist.
Motorists are advised to take Hokuli'a Bypass for southbound travel.During Thursday's closure in South Kona