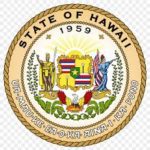 Yesterday, the State of Hawai'i closed on a sale of $800 million of general obligation bonds. Proceeds of the bonds will provide funding to support new and existing infrastructure projects.
In a press release Governor Ige said, "We are very pleased with the results of the bond sale.  Despite challenging conditions in the broader bond markets this year, the Hawaiʻi was able to generate strong demand for its bonds. This demonstrates the market's continued confidence in the State's ability to prudently manage its long-term financial responsibilities."
Before the sale, Gov. Ige and senior State administrators met with analysts from Moody's Investors Service and S&P Global Ratings to review the State's credit quality. Following these presentations, Moody's and S&P affirmed the State's bond ratings of Aa2 and AA+, respectively, with stable outlooks. Both agencies cited the State's robust economic performance coming out of the COVID-19 pandemic, healthy financial position, and long track-record of careful fiscal management as key strengths that support the State's strong bond ratings.
Morgan Stanley served as the lead managing underwriter for the bond sale, with BofA Securities and Citigroup as co-senior managers, and Jefferies and RBC as co-managers.  A Hawaii-based selling group was also utilized to further market the bonds to local retail investors.