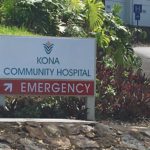 The Kona Community Hospital (KCH) Imaging Department is opening its appointment schedule to include weekend hours for outpatient imaging services beginning this Saturday, November 5.
The expanded schedule includes appointments for Echo Cardiograms, Ultrasounds, and X-Rays, MRI imaging or CT scans will not be included.
Walk-in appointments are not available as all KCH imaging services are available by appointment only and require a provider referral.
"We're trialing Saturday and Sunday appointment openings during November and December in
order to accommodate our patients' hectic schedules," said Craig Davis, Imaging Department
Director in a press release. Davis continued, "We will review the success of the weekend appointment schedule after the New Year to determine whether it is feasible to make a permanent shift to this new schedule."
KCH Imaging Department appointments can be made via phone at (808) 322-4490 or online at
https://kch.hhsc.org/services/imaging/.