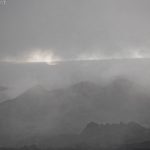 As of 7am on Wednesday, December 14, 2022 HVO reported that Mauna Loa is no longer erupting and webcams only captured residual incandescence and no lava movement in the F3 vent. The channels below the vent appear drained of lava and no longer feed the main flow front.
The inactive main flow front remains stalled about 1.7 miles from the Daniel K. Inouye Highway when last measured on the morning of December 10.  The inactive main flow front still glows at a few spots at night and may inch northward very slowly as it continues to settle.
Sulfur dioxide (SO2) emission rates continue to be reduced; on December 10, the emission rate was approximately 2,000 tonnes per day (t/d).
Tremor is no longer detectable; summit and Northeast Rift Zone inflation is slowing.
The significance of the continuing inflation while the flow field is inactive is not yet clear; however it is common for eruptions to wax and wane or pause completely, but none of the eight recorded eruptions from Mauna Loa's Northeast Rift Zone returned to high eruption rates after those rates decreased significantly. Nevertheless, the Hawaiian Volcano Observatory continues to closely monitor the current activity.
There is no active lava within Moku'āweoweo caldera nor in either rift zone. Satellite imagery shows the entire 2022 flow field cooling and no longer active.
The most recent eruption map can be found at https://www.usgs.gov/media/images/most-recent-mauna-loa-northeast-rift-zone-eruption-map
Photo credit: USGS