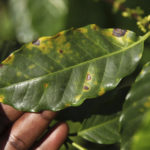 The United States Department of Agriculture (USDA), Animal and Plant Health Inspection Service (APHIS) will award over $2.5 million to Hawaiʻi's Plant Pest and Disease Management and Disaster Prevention Program (PPDMDPP).
Last year, Kona Coffee farmers were devastated by the combination of a drought, an infestation of the Coffee Berry Borer beetle and coffee leaf rust fungus.
Funding is focused on the prevention of invasive species from entering the islands and for the prevention and mitigation of fruit fly impacts.
Specific projects include:
• Hawaiʻi Detector Dog Program
• Molecular diagnostic catalog for tracking invasive noctuid moth introductions in Hawai'i
• Integrative identification methods for Bactrocera fruit flies
• Developing molecular diagnostic tools to determine strain and mating status of fruit fly incursions
• Identification of Oriental Fruit Fly Larvae & Trap Captures
• Field testing of bait stations containing a fungal pathogen to control invasive fruit flies
• Development of protein food odor based chemical lure for female oriental fruit fly
• Optimizing Bacterial Probiotic Establishment for Medfly Sterile Insect Technique
• Developing an insecticide rotation to combat spinosad-resistance in three species of invasive Tephritidae fruit flies
• Management of hala scale insect in Hawaiʻi, and survey of its potential biological control agents in its native range
• Enhanced mitigation and rapid response to introduced snails, earthworms, and flatworms in Hawai'i
• Systems Approach for the management of Coffee Berry Borer in Hawaiʻi and Puerto Rico with emphasis on biological control.
AP Photo