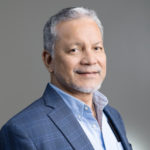 Dr. Wilfred C. Alik has joined Hawai'i Island Community Health Center (HICHC) as the East side Medical Director.  In this role Dr Alik will oversee medical staff and services at HICHC locations in Hilo, Kea'au, Pāhoa and Ka'ū.
Dr. Alik specializes in family medicine and in addition to his role as Clinic Chief, he served as the Chair of the Kaiser Permanente Diversity Council from 2000-2013. For over 20 years he has worked as a Team Physician on Medical Missions to the Republic of the Marshall Islands; caring for patients exposed to radioactive fallout. He is an active member of the Micronesian Health Advisory Coalition and a strong leader in the healthcare field. 
Born and raised in the Marshall Islands, Dr. Alik attended Xavier High School in Chuuk State (also known as Truk). Upon graduating, he left the Marshall Islands to attend Creighton University in Nebraska and Western Oregon University. He received his medical degree from the John A Burns School of Medicine at the University of Hawaii at Manoa in 1994 and has been practicing medicine for nearly 30 years. 
As COVID 19 hit both locally and globally, Dr. Alik headed the Marshall Island COVID 19 Task Force and worked hard to bridge gaps in care in Hawai'i for Pacific Islanders. He worked to ensure access to timely information, and helped to keep communities informed and receiving the care they needed. 
In his new role at HICHC Dr. Alik will supervise 18 medical providers and work collaboratively with an integrated care team including nurses and clinical support staff to provide care for over 20,000 patients annually.
Photo credit: Hawaiʻi Island Community Health Center