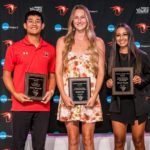 UH Hilo Athletics completed the 2022-23 school year with their annual All-Sports Banquet.
Baseball's Casey Yamauchi and women's soccer's Jodi Lillie were named Male and Female Athletes of the Year, respectively, with Women's Soccer tabbed as Vulcan Team of the Year. Yamauchi and Lillie, both fifth-year seniors, have played integral roles to help build their respective sports programs over the last handful of seasons culminating in achieving top 25 rankings by both squads this season and an undefeated regular-season run to claim back-to-back Pacific West Conference Championships for women's soccer.
Luca Matheiowetz (men's tennis) and Bree Olson (women's basketball) both maintained a 3.91 cumulative grade point average to earn this year's Joe and Harriet Estrella Male and Sakai and Harue Wakakuwa Female Scholar-Athlete honors, respectively. To be eligible, student-athletes must have been active this season of competition and been in attendance at UH Hilo for at least five semesters.
The Ramon Goya Academic Teams of the Year for highest combined GPA went to Women's Soccer (3.48 GPA) and Women's Tennis (3.47 GPA) — both consecutive repeat winners.
Women's soccer took home the Community Engagement / Service Award for more than 700 combined hours volunteering in the local area.
The following departing seniors were honored with special recognition for setting new all-time program records.
Kendall Kott (women's volleyball),
Mandi Kawaha (women's basketball)
Casey Yamauchi (women's baseball)
Below is a detailed list of award recipients:
VULCAN TEAM OF THE YEAR
Women's Soccer
FEMALE ATHLETE OF THE YEAR
Jodi Lillie, Women's Soccer (5TH / Mililani, Hawai'i
MALE ATHLETE OF THE YEAR
Casey Yamauchi, Baseball (5TH / Hilo, Hawai'i)
SAKAI AND HARUE WAKAKUWA FEMALE SCHOLAR-ATHLETE
Bree Olson, Women's Basketball – 3.91 GPA (6TH / Tucson, Arizona)
JOE AND HARRIET ESTRELLA MALE SCHOLAR-ATHLETE
Luca Matheiowetz, 3.91 GPA (JR / Olching, Bavaria, Germany)
SCHOLAR-ATHLETES
Women's Cross Country: Olivia Jarvis (GR / Oceanside, California)
Men's Soccer: Tom Vorkastner (JR / Tangstedt, Germany)
Women's Soccer: Filippa Graneld (JR / Stockholm, Sweden)
Women's Volleyball: Kendall Kott (SR / Shingle Springs, California)
Men's Basketball: Emery Eberhard (FR-R / Lafayette, Colorado)
Women's Basketball: Bree Olson (6TH / Tucson, Arizona)
Men's Golf: Ethan Hironaga (SO / Kea'au, Hawai'i)
Women's Golf: Kailey Oki (SO / Hilo, Hawai'i)
Men's Tennis: Luka Petrikic (SO / Vienna, Austria)
Women's Tennis: Julia Barden (JR / Toh Tuck, Singapore)
Baseball: James Yamasaki (JR / Honolulu, Hawai'i)
Softball: Alexis Lacy (SO / Anaheim Hills, California)
RAMON GOYA ACADEMIC TEAMS OF THE YEAR
Team Sport: Women's Soccer (3.48 GPA)
Individual Sport: Women's Tennis (3.47 GPA)
KOKUA AWARD / VOLUNTEER OF THE YEAR
Marty Ciez
COMMUNITY ENGAGEMENT / SERVICE AWARD
Women's Soccer
MOST PONO VULCAN
Women's Golf: Lauren Runnels (FR / Beaverton, Oregon)
Men's Soccer: Wataru Muto (SR / Chiba, Japan)
Women's Soccer: Nalani Wall (SR-R / Kealakekua, Hawai'i)
Women's Volleyball: Tani Hoke (JR / Kailua, Hawai'i)
Men's Basketball: Darren Williams (5TH / Rancho Cucamonga, California)
Women's Basketball: Mindy Kawaha (JR / Hilo, Hawai'i)
Men's Golf: Keith Ng (SR / Richmond, British Columbia, Canada)
Women's Golf: Kailey Oki (SO / Hilo, Hawai'i)
Men's Tennis: Manuel Loera (SR / Barstow, California)
Women's Tennis: Lehua Jordan (FR / Chatsworth, California)
Baseball: Kobie Russell (6TH / Waipahu, Hawai'i)
Softball: Lexie Tilton (FR / Mililani, Hawai'i)
Photo credit: UH Hilo