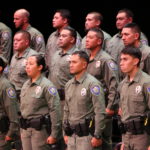 The DLNR Division of Conservation and Resources Enforcement (DOCARE) is beginning statewide recruitment for entry-level Conservation and Resources Enforcement Officer (CREO I) beginning Saturday, June 3, 2023.
The CREO job recruitment will be advertised on the State of Hawai'i jobs website, operated by the Dept. of Human Resources Development.
Basic job qualifications include:
Minimum age of 21 at the time of application
Two years of general work experience
Meet federal and state firearms regulations
Able to swim 100 meters within three minutes
Able to hike one mile within 20 minutes
Valid driver's license
Applicants subject to background & fingerprint clearances, pre-employment drug testing
To apply and submit documents online visit dhrd.hawaii.gov
Applicants are encouraged to apply quickly, as only a limited number of applications can be received, and once application intake limits are reached, the recruitment will end.
For questions related to the application process call (808) 587-1111 to reach the State Recruiting Office
DLNR Photo