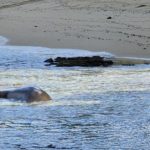 PO5, or the recently named Hawaiian monk seal pup, Pualani, will be relocated from Kaimana Beach in Waikīkī after she is weaned, according to NOAA. The offspring of mother seal Kaʻiwi was born in mid-April.
"After careful assessment, in close coordination with our state, county, and non-profit partners, we determined the best option for Pualani is to relocate her, especially given the risks of habituation in such a crowded area," explained Kilali Ala'ilima Gibson, NOAA Fisheries O'ahu Marine Wildlife Response Coordinator in a press release.
Gibson added, "We want to extend a big mahalo to our incredible community and our valued partners for their efforts to protect our endangered Hawaiian monk seals on Kaimana beach. Together, we've created a safe nursery for mom and pup, and we look forward to the next phase of monitoring them as they transition out of their nursing phase and into independent seals."
All the agencies involved are currently making plans for Pualani's safe removal from the historically busy beach.
Volunteers and staff from Hawai'i Marine Animal Response (HMAR), City and County of Honolulu lifeguards, and officers from the DLNR Division of Conservation and Resources Enforcement (DOCARE) have been protecting the monk seal pair and ocean goers around the clock.
In a press release DOCARE Chief Jason Redulla said, "Since our officers began providing land and ocean overwatch at Kaimana Beach, only one person was cited over the past month. The expanded cordon (roped perimeter), the outreach efforts of HMAR and NOAA, and DOCARE's presence have kept both the seals and people safe. Officers will continue their work on the beach and in the water until Pualani is safely relocated."
The time and site of the relocation effort will not be announced in advance to provide safety and protection throughout the transition process.
DLNR Photo