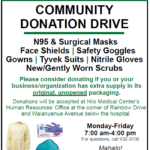 Hilo Medical Center is asking the community for donations of Personal Protective Equipment (PPE) as they face extra demand in the face of the COVID-19 outbreak and testing.  Anybody who has an extra supply of the following items, in the original, unopened packages are asked to consider donating them. Any such items may be taken to Hilo Medical Center's Human Resources Office at the corner of Rainbow Drive and Waianuenue Avenue below the hospital Monday through Friday from 7 a.m. until 4 p.m.
N-95 and Surgical Masks
Face Shields
Safety Goggles
Gowns
Tyvek Suits
Nitrile Gloves
New and Gently Worn Scrubs
Questions, please call 808-932-3150.