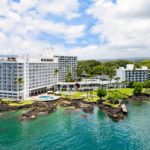 The American Hotel and Lodging Association says hotels around the country are more than half empty, some are closing, some are laying off workers.  But, some are also available and willing to provide lodging for those who may need temporary places to stay.
The AHLA says 7 out of 10 hotel rooms were empty, nationwide, as of Mar. 25.  Nearly 3.9 million hotel jobs have been eliminated or likely will be, including 57,000 jobs in Hawaii.    Hotel occupancy projections for the next weeks and months stand at about 20% here in the state.
The American Hotel and Lodging Association has established Hotels for Hope, an initiative to connect hotels that have extra space with government entities who may need additional space for lodging for first responders, hospital and health care workers, and even as additional space for those in recovery from COVID-19 who may not need hospitalization but need a place to stay.
Kekoa McClellan, the Hawaii representative for AHLA, says the federal, state, and county governments will be the drivers behind what those needs are, whether it is patient overflow from our health care system, temporary shelter and quarantine needs for our homeless citizens, housing for health care providers and first-responders who need to be closer to their place of work, or other needs identified by relevant authorities.
On the Big Island, hotels that are participating in the Hotels for Hope initiative include the Grand Naniloa Resort and the Hilton Waikoloa.  Outrigger Hotels (incoming owner of Sheraton Kona) are participating at hotels throughout the state.    There are a number of hotels on O'ahu and on other neighbor islands that are part of the effort.
Photo is the Grand Naniloa Resort in Hilo.