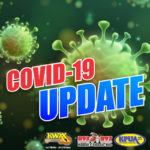 Hawaii State Health Department provided additional detail about cases of COVID-19 in the noon update.  They also provided information about in-state testing (19,213 tests, 18,680 negative, 502 positive, and 31 inconclusive).  Two of the state's 504 positive cases were tested out of state.
For the Big Island, there have been 40 cases.  State Department of Health says 28 of those people are now past the quarantine period, and have been released.  Twelve are still under quarantine.  It is assumed that includes the 8 cases of COVID-19 that were confirmed as being part of a cluster surrounding a now-closed Kailua-Kona fast-food, drive-through restaurant.
Monday evening, Hawaii County Mayor Harry Kim confirmed that on Saturday morning, State Department of Health informed him of the cluster.  The initial worker who was infected tested positive last Thursday, April 9.  The restaurant shut down on Friday for disinfection, and is still closed, with no announced opening date.  Kim said the State Department of Health did contact tracing — determining who the victim lived and worked with, and with whom he or she had been in contact– and there were 7 additional coworkers or family members who tested positive for COVID-19.  One of those people had no symptoms.   Kim said none of the victims needed hospitalization.
Until Mayor Kim confirmed the details Monday evening, there had been no announcement of the Kailua-Kona cluster.  Kim said he did not know if patrons of the establishment prior to Thursday had cause for concern, that the matter was in the hands of the State Department of Health.
LABORATORY TESTING DATA
Total Number of Individuals Tested

by Clinical and State Laboratories

Positive
Negative
19,213
502
18,680
31 test results were inconclusive
HAWAI'I COVID-19 COUNTS AS OF 12:00 NOON, APRIL 13, 2020
Island of Diagnosis
New Cases
Reported since

2/28/2020

(including new cases)

Total Released from Isolation
O'ahu
2
352
233
Hawai'i
1
40
28
Maui
2
84
40
Kaua'i
0
21
14
Moloka'i
0
2
Included in Maui numbers
Lana'i
0
0
Included in Maui numbers
Residents Diagnosed outside HI
0
2
Unknown**
0
3
Total
5
504
Total released from isolation
 
 
315
Deaths
0
9
 
** Refers to positive cases that have an unknown county of diagnosis at the time of this report. As more information becomes available for these cases, they are assigned to the proper County of Diagnosis. A negative number indicates the number of previously unknown cases that have now been assigned to a county.