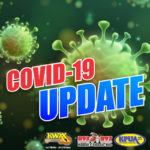 Hawaii County Mayor Harry Kim confirmed Monday evening that there is a cluster of 8 cases of COVID-19, all connected with one fast-food drive-through restaurant in Kona.  Kim would not confirm which fast food restaurant, but said it has been closed since Friday.
Kim said an employee at the restaurant tested positive on Thursday (April 9).  He said once the employee was confirmed as positive, State Department of Health started doing "contact tracing," which means finding and tested those people with whom the person lives and works.   Kim did not know the total number of employees nor family members who were tested, but confirmed that a total of 8 people are in the cluster.  All are family members or coworkers of the initial infected person.
One of the people in the cluster has no symptoms, but did test positive.
Kim said Department of Health advised him of the cluster on Saturday morning and told him the owner of the restaurant had already closed the restaurant, without the State Department of Health asking.  He said none of the 8 have been hospitalized and that all are self-quarantining and recuperating at home.  Kim said he believes all 8 cases are already reported in the State's total count of COVID-19 cases
The State DOH's procedure is to contact any infected people at least once a day and confirm how they are feeling and that they are still self-quarantining.
Kim did not know when the restaurant would reopen, and said the owner is having the restaurant completely disinfected.    There is also no information about any other employees at the restaurant and whether they are working at other restaurants in the chain or whether they are just not working until the restaurant reopens.
Kim said he did not know if there was a concern for those who may have patronized that location prior to last Friday when the restaurant closed.  State Department of Health was not available Monday evening for any additional details, but we will update this story if more is revealed.