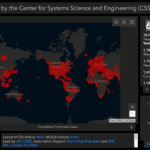 The Friday morning, May 1, 2020 6:32 a.m. HST  Johns Hopkins COVID-19 Dashboard update:
Worldwide cases:   3,303,296     Worldwide deaths:  235,29
U.S. cases:  1,082,411     U.S. deaths:  63,127
Hawaii cases:  618   Hawaii deaths:  16
Hawaii Island had 3 new reported cases of COVID-19 on Thursday, per the State Department of Health, bringing the island's total count to 73.   DOH says 58 of those have been released from isolation.  DOH has not provided additional information about yesterday's 3 new reported cases.   At least half of the island's cases –36–are associated with the McDonald's Kona cluster, though State DOH has not provided an update on the McDonald's cluster since last Saturday.
Governor David Ige and Lt. Governor Dr. Josh Green say the curve in Hawaii is flat, and on O'ahu, some businesses have been ok'd to reopen.  Other islands will be announcing business reopening soon, according to Gov. Ige at a Wednesday press conference.  The Governor's most recent Emergency Proclamation not only extended the statewide "stay at home" order, but requires the Mayors to get concurrence from Gov. Ige or Lt. General Kenneth Hara, head of the Hawaii Emergency Management Agency (HIEMA) before allowing reopenings or imposing additional emergency orders.
On Wednesday, Hawaii County Civil Defense Administrator Talmadge Magno in an email said, regarding Hawaii County's plans to reopen businesses:   "As of today no time frame on that release or exactly what business will be listed to open."
Hawaii County said on Thursday they will not allow green waste nor recycling at most normal locations through at least the end of May.
Around the country, around 35 states are in the process of letting some businesses reopening.  But at the same time, there continue to be some hotspots.  The Governor of New Mexico just ordered a complete lockdown of Gallup, New Mexico, just west of Albuquerque,  for example, because there are more than 1,000 cases of coronavirus in the town with a population of 22,000, with 200 new cases in the last two days.    The entire state of New Mexico, with a population of just over 2 million, has 3,411 reported cases.
On Thursday, the drug company AztraZeneca and Oxford University announced a collaboration on a vaccine for coronavirus, and are already in clinical trials.  On Wednesday, Dr. Anthony Fauci, a member of President Trump's COVID-19 Task Force and head of the National Institute of Allergies and Infectious Diseases, said news about a possible treatment for COVID-19 –remdesivir– was very positive and was so positive that the oversight body had advised the study team to inform those receiving a placebo of the positive results and give them the option of switching to the actual drug.