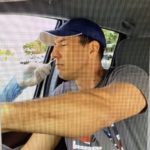 Today (Friday May 1, happy Lei Day) there will be a drive-through COVID-19 screening and testing clinic at the Honoka'a Sports Complex's lower level, from 9 a.m. until 1 p.m. Access is through the Akia St. entrance.
This free clinic is open to the public; however, individuals must first undergo a screening on site by clinic physicians to determine if they meet the criteria to be tested.  The screening criteria will be based on guidance of the CDC and the State's COVID-19 Response Task Force.
Right now the clinicians are looking for direct known exposure to a positive COVID-19 patient, symptoms such as dry cough or fever or sudden loss of taste and smell, travel from out of state, or frequent exposure to a large number of people (ie health professionals, first responders, airline personnel).
People who visit the screening clinic will be asked to show photo ID.  Additionally, people are requested to bring their own pen, and any health insurance cards they have, although insurance is not required.
The event is sponsored by Premier Medical Group, the County of Hawai'i, and Hope Services.
There is also testing Saturday, May 2 at Kamehameha Park in Kapa'au from 10 a.m. until 2 p.m., and islandwide on an ongoing basis.  Click here for details on all the ongoing screenings and testings.
Dr. Edward Desmond, in updating the State Senate Special Committee on COVID-19 earlier this week, said there is adequate testing and processing capacity within the state to do up to 3,000 tests per day, and that labs right now are doing around 1,000 tests per day.
For further information, please call Civil Defense at 935-0031.
Photo is Senator Kai Kahele getting tested for COVID-19 after being in close contact with a confirmed COVID-19 patient (he tested negative).