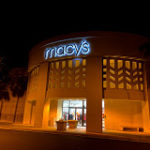 Macy's, which has stores in both Hilo and Kona, has announced that it will begin reopening its retail stores next week, beginning with 68 stores in states where lockdown restrictions are loosening.  CEO Jeff Gennette in a call with analysts said he expects 50 more stores to open by May 11, with the balance of the stores opening within 6 to 8 weeks.
Gennette said the retail chain will survive, although it will be a smaller company with a smaller workforce.    In February, before the COVID-19 shutdowns, Gennette had announced plans to permanently close 125 stores nationwide.  During the shutdown, Gennette said the company has been paying vendors more slowly–on a 120-day basis instead of the usual 30.
In March, Macy's announced that Gennette would take no salary starting April 1 and that some executives would take pay cuts.
There is no word on when Macy's stores in Hawaii will reopen.
Photo is Macy's Makalapua store in Kailua-Kona.