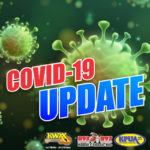 The State of Hawaii has 87 new confirmed cases of COVID-19, bringing the state's cumulative total to 2,197, with 1,269 COVID-19-positive people now no longer being monitored nor in isolation.   There are 902 active cases throughout the state. All 87 new cases are on O'ahu.
The Big Island had no new cases, and has zero active cases, with 115 cumulative.    Kaua'i and Maui also had no new cases.
"Many of the cases reported recently are associated with social gatherings," said Health Director Bruce Anderson in a news release. "This month, multiple cases have been associated with a yoga class, fire station, funeral events, gyms, socializing at bars, and training events. Infections have been traced to workplaces including but not limited to a construction company and site, non-patient care areas of hospitals, social service organizations, nursing and care homes, retail establishments, warehouse, and delivery businesses."
On the mainland, cases continue to grow.  The CDC is now projecting that the current death toll from COVID in the U.S. –154,188 as of 12:30 p.m. on Saturday, August 1 according to the Johns Hopkins COVID-19 map–will likely grow by 20,000 within the next three weeks.
As every health professional says,  the only way to combat the virus is to wear a mask when with others, stay at least 6 feet from those not in your household, and wash your hands often.
The State's detailed noon report:
Hawaii County
| | |
| --- | --- |
| Total Cases: | 115 |
| Released from Isolation: | 115 |
| Required Hospitalization: | 4 |
| Deaths: | 0 |
Honolulu County
| | |
| --- | --- |
| Total Cases: | 1,842 |
| Released from Isolation: | 982 |
| Required Hospitalization: | 161 |
| Deaths: | 19 |
Kauai County
| | |
| --- | --- |
| Total Cases: | 47 |
| Released from Isolation: | 43 |
| Required Hospitalization: | 1 |
| Deaths: | 0 |
Maui County
| | |
| --- | --- |
| Total Cases: | 170 |
| Released from Isolation: | 129 |
| Required Hospitalization: | 26 |
| Deaths: | 6 |
Out of state
| | |
| --- | --- |
| Total Cases: | 23 |
| Released from Isolation: | 0 |
| Required Hospitalization: | 2 |
| Deaths: | 1 |
Pending
| | |
| --- | --- |
| Total Cases: | 0 |
| Released from Isolation: | 0 |
| Required Hospitalization: | 0 |
| Deaths: | 0 |