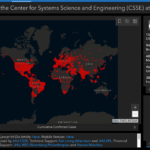 The Johns Hopkins COVID-19 Dashboard for Tuesday, August 4, at 7:34 a.m.:
Worldwide cases: 18,359,053    Worldwide deaths: 695,709
U.S. cases: 4,738,853      U.S. deaths: 156,041
According to the Dashboard, the reported worldwide cases increased by 211,479 in the last 24 hours.  The worldwide death toll in the past two days increased by 5,136.
Nationally, cases seem to be increasing at a less-rapid rate than before, but some states continue to have high spikes.  Florida officials said Tuesday morning that 45 of the state's hospitals were at capacity in their Intensive Care Units.  White House Coronavirus Task Force Chair Dr. Debra Birx said on Sunday that the virus is widespread throughout the United States, in both rural and urban areas.
According to the Johns Hopkins Dashboard, the United States has added 51,025 cases in the last 24 hours, and reported deaths attributed to COVID-19 have increased by 979.
On Hawaii Island, there are three active cases, all related to mainland travel, according to   Hawaii County Civil Defense Administrator Talmadge Magno. But Magno said in an email on Monday that several of the recent Big Island cases have been related to travel to O'ahu.  Magno confirmed on Tuesday morning that the three active case residences are located in Pahoa, Waimea, and Kona.

Click here for a related story–one case has been confirmed in somebody at Liberty Dialysis in Hilo.
In a press conference Monday afternoon, Gov. David Ige said he's asked the State Department of Health to look at the interisland trips taken since the interisland travel quarantine was lifted on July 16 and see how many cases are related to interisland travel.
Statewide, the count as of noon on Monday was 2,448 cumulative cases, with the number of active cases at 1,107.  The state added 207 cases on Monday, but some of those cases were cases not reported on Saturday and Sunday due to Clinical Laboratories not being able to transmit its report.  In a Monday afternoon press conference, both Gov. David Ige and State Health Director Bruce Anderson said the state has enough contact tracers, despite Gov. Ige last Thursday saying there were not enough.  Anderson said that last week, the DOH  had around 70 tracers, and they've hired 20, and may hire 20 more next week.  Gov. Ige also said there are around 60 members of the Hawaii National Guard who may assist with contact tracing.  The State has contracted with Google to provide an app that is to help the tracers with their work.  Additionally, Dr. Anderson has said there are 400 potential tracers who have been trained by University of Hawaii, but it's not clear how the State DOH plans to use them, nor when.
Gov. Ige on Monday asked that everybody support the reopening of schools on August 17.  Schools will be using a combination of online and in-person classes, so school will be different than pre-COVID–and Gov. Ige wants everybody to be supportive of the plan.  He also said he continues to look at reopening travel to out-of-state travelers on September 1.  He said he understands that hotels and airlines and tour operators need to know in advance what the State's timeline and plan is, but has not yet provided details.