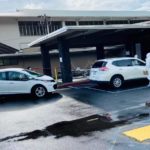 Hawaii County Civil Defense announced just this morning that there is a pop-up testing for COVID-19 today at Afook Chinen Auditorium from 11 a.m. until 3 p.m.
As always, those concerned about COVID-19 will be screened by medical professionals and then given a COVID test.
This morning, Nancy Biegler, Director of Liberty Dialysis on Kino'ole Street, confirmed that they had one confirmed case of COVID-19 within the past few days, but said she could not confirm whether it was in a staff member or a patient.
Dr. Scott Miscovich of Premier Medical Group confirmed this morning that he and his team are at Liberty Dialysis now, testing staff members.  Biegler has confirmed that they also requested today's previously-unannounced testing at Afook Chinen.   Biegler said they are notifying patients or caregivers or family members who may have been in the clinic when the COVID-19-positive person was.
Biegler said they are doing extra sanitizing of the Liberty Dialysis office.  She also said there is no delay in people being able to get their dialysis appointments at Liberty Dialysis.