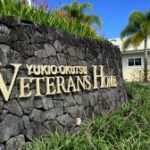 Hilo Medical Center has announced one additional death due to COVID-19 –another resident of the Yukio Okutsu Veterans Home.  This brings the number of residents passing from COVID-19 to 13.  One additional COVID death has occurred not related to the Veterans Home.
The hospital has 18 patients with COVID-19.  One resident in the hospital's long-term, extended care facility has been moved into the hospital after testing positive for COVID-19 after receiving off-site dialysis.  All patients with COVID-19 are isolated from others.
Liberty Dialysis in Hilo has had other cases of COVID-19 in connection with its facility, and is the only dialysis center in Hilo.
Liberty Dialysis is part of a large chain owned by Frenesius Kidney Care, a German company with its North American company in Massachusetts.  When Liberty Dialysis had its first cases of COVID-19 in early August, local manager Nancy Biegler confirmed it, but Brad Puffer, the company spokesperson in Massachusetts, said via email:  "We have been actively screening patients and employees for COVID-19 since February and implemented strict infection control procedures and use of protective equipment which have met or exceeded federal guidelines. Though we are unable to disclose information about specific individuals or centers, we can confirm that patients who present symptoms or test positive for COVID-19 will be receiving treatment in separate clinics or shifts to help protect our patients, employees, and physician partners. Patient safety and delivering superior care remains at the forefront of everything we do."  In a phone call at that time, Puffer said they would not confirm any specific cases of COVID-19 in either patients nor staff.
On August 4, Premier Medical Group tested all the staff members at Liberty Dialysis in Hilo for COVID-19, and the County set up a testing at Afook Chinen Auditorium at the request of Liberty Dialysis.
The hospital is now COVID testing other patients who are receiving dialysis.
Hilo Medical Center has paused visitors to the hospital for now, because of COVID-19. The exceptions are pediatrics, the OB Ward, and those patients at the end of their lives, all of whom may have one visitor.  The hospital is still exercising COVID-19 precautions relative to mask wearing, and more.
The complete update from HMC:
HILO MEDICAL CENTER UPDATE (as of 3:30 pm on Monday, September 14, 2020)
·         18 total COVID-positive patients are hospitalized: 6 in ICU, 12 in COVID Unit
o   A long term care resident staying in our Extended Care Facility who has been receiving dialysis care tested positive today for COVID-19 and has been sent to the hospital.
o   The resident tested negative for COVID-19 four days ago on September 10.
o   All staff, who had been tested last week per Centers for Medicare and Medicaid guidelines, were negative as of September 9.
o   After contact tracing, no staff required home quarantine due to extensive and consistent use of PPE.
o   As a standard precaution, all staff and residents are being tested due to this resident's positive result, results pending.
o   Two residents receiving dialysis care, and the COVID-positive resident's current roommate have been Rapid ID and PCR tested, results pending.
o   Hilo Medical Center has paused admissions to our Extended Care Facility until this situation is resolved.
·         1 death related to COVID-19 occurred at the hospital on September 8, 2020. This death is unrelated to Yukio Okutsu State Veterans Home.
YUKIO OKUTSU STATE VETERANS HOME UPDATE (as of 3:30 pm on Monday, September 14, 2020, reported by Avalon Healthcare, the veterans home's managing company)
·         A total of 68 residents and 30 employees have tested positive for COVID-19
·         4 residents are hospitalized at Hilo Medical Center
·         34 total residents are cared for at the veterans home's COVID designated area
·         17 residents and 5 employees have recovered
·         1 death to report today related to COVID-19 at the Yukio Okutsu State Veterans Home.
o   13 total resident deaths related to COVID-19 have occurred. We offer our deepest sympathies to the families and loved ones.