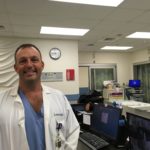 Lt. Gov. Josh Green and two Sheriff's Deputies who are part of his security detail are, so far, the only members of Green's office staff who have tested positive for COVID-19.  The COVID-19 Joint Information Center said Green's wife and two children have also tested negative.  Green said previously that the first deputy's wife had also tested positive.
The deputy's COVID-19 test was positive Friday morning, and following that, Green and 11 people on his staff who may have been exposed all had COVID-19 tests.
Lt. Gov. Green has said he's feeling well, but he is quarantining at home, having taken over the bedroom of one of his children.  Green acknowledged that at 50, he's not in a high risk category, but noted that people in all age groups can get seriously ill and even pass away.   His staff is also in quarantine, until the State Department of Health releases them.
Green had worked at the Emergency Room at Kohala Hospital Sept. 5, 6, and 7, and the hospital had all staff and patients who may have been in contact with Green also tested for COVID-19.
Photo is Lt. Gov. Dr. Josh Green at Kohala Hospital Emergency Room